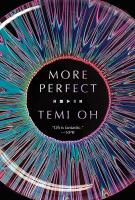 Genre: Science Fiction
A reimagining of the Greek myth of Eurydice and Orpheus, for fans of Becky Chambers and William Gibson by Alex Award–winning author Temi Oh.
Using the myth of Eurydice as a structure, this riveting science fiction novel is set in a near-future London where it has become popular for folks to have a small implant that allows one access to a more robust social media experience directly as an augmented reality. However, the British government has taken oversight of this access to an extreme, slowly tilting towards a dystopian overreach, all in the name of safety.