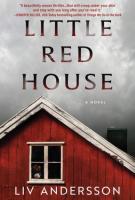 Genre: Fiction
In 1997, Eve Foster's daughter, Kelsey, runs away to New Mexico and vanishes without a trace. Eve is convinced that she's the victim of a serial killer who's been hunting women in the region, but Kelsey's body is never found. Years later, Eve dies, leaving everything to her adopted twin daughters. The majority of the wealthy estate in Vermont goes to Lisa, the "good daughter," while Connie inherits only a small stipend and a property in New Mexico.
Connie, often the target of Eve's cruelty, suspects this was another of her mother's vindictive games. Connie arrives in New Mexico to find a small dilapidated red house in the desert and the home's mysterious caretaker, Jet Montgomery, living in a shack on the property. She learns there's been a string of women murdered in the area—murders that no one will talk about.
Before Connie can get to the truth, her mother's sadistic mind games come creeping back from the grave, and now the danger becomes all too real. With a serial killer on the loose and a trove of deadly secrets coming to the surface, Connie is in a desperate race to save herself and what little is left of her shattered family.