Fall Teen Challenge (Sept. 1 - Dec. 18)
Fall into a Good Book Teen Challenge: Director Candy and Teen Coordinator Renee will dye their hair a funky color if 100 completed book reviews  are turned in between Sept. 1st - Dec. 18th by Teens (ages 11-18). Get your book reviews at the front desk or in the Teen Area.
You can download and printout the book review here.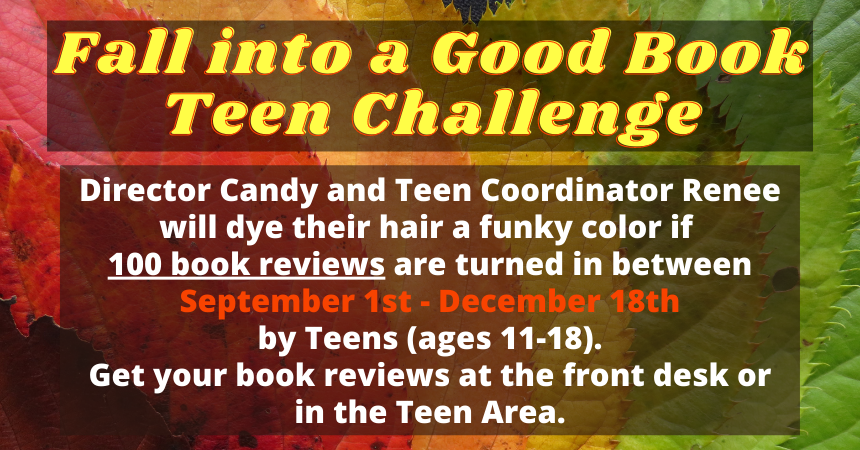 October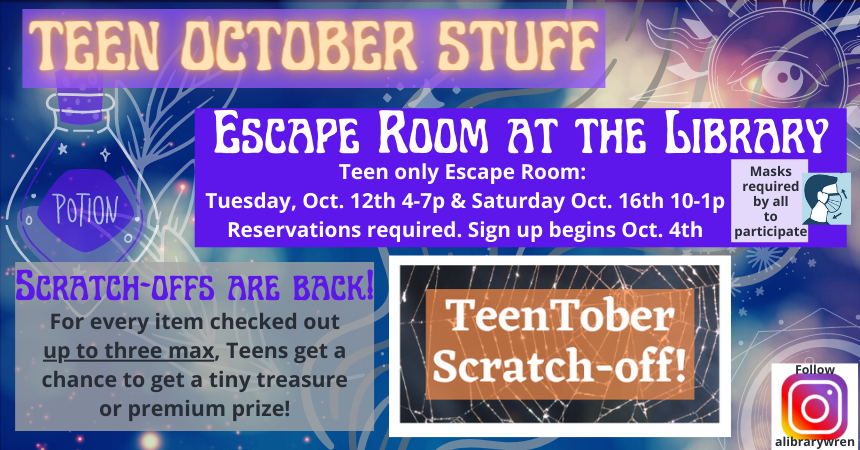 Throughout October, we are celebrating library teens with TeenTober Scratch-offs! For every item checked out up to a max of three, teens have a chance to win a tiny treasure or a premium prize!
Escape Room at the Library: 
Teens only on Tuesday, Oct. 12th 4-7p & Saturday Oct. 16th 10-1p 
Reservations are required. Sign up begins Oct. 4th
Minimum 3, maximum 6 players
Masks required by all to participate
If you want to participate with your family sign up for the Family Night version. Monday the 18th 4-7p or Saturday 23rd 10-1p
November
We have the Friends Auction later in the month so we will have a simple Game Day at the beginning on the 9th from 330 - 7p. We have new games to try or you can bring your own to share!
Check out our Community Sudoku Autumn Edition in the Teen Area. It will be available all month long.