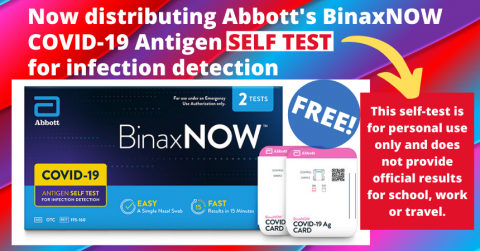 As of March 8th 2021, the Delta Public Library is capable of distributing at-home COVID-19 self tests. Click here for important info regarding this opportunity.
June 9th 2020, the library building opened to the public. Curbside Service is available for those patrons that are unable or feel uncomfortable coming inside the building.
August 31 2020, the library resumed normal business hours. While there are no specific hours for seniors we recommend seniors continue to visit during the morning hours.
On site programming and usage of Community Room & Quiet Room 1 are available. Check our Upcoming Events for further details about our programming for all ages.
We apologize for the inconvenience of our COVID-19 protocols. Please continue to be safe, get vaccinated if able and wear a mask when in public, if not.
Frequently Asked Questions
What are we doing to help stop the coronavirus?
Staff and patrons are practicing social distancing within the building.
All patrons that have received the vaccine are welcome to not wear a mask.
Unvaccinated patrons are advised to wear a mask inside the building.
Hand sanitizer is available at both entrances and at the front desk.
We have obtained equipment that exposes library items to UVC light, which eliminates the need to quarantine materials.
When will storytime and the play area be available for patrons to visit and use?
Please check our calendar to see dates and times for storytime. They resumed Sept. 30th 2021 with our new Children's Librarian Ms. Jenn.
We have the early-literacy computers open and patrons will find play sets and other new activities monthly in the Children's Area.
How do patrons of the Delta Public Library reserve books?
Patrons of the Delta Public Library can reserve items 24/7 online at www.deltapubliclibrary.org (must have library card number and password), call 419-822-3110 (staff available during normal hours of operation), email, or through our Facebook page. Here are instructions on how to reserve items online.
Who may use Curbside Service and how does that work?
Curbside Service is available for those patrons that are unable or feel uncomfortable coming inside the building. Please set up a time to pick up your items at the side entrance next to the dropbox.
Is there a way that patrons can pick up items when the library is not open?
Click here to learn about our new After Hours Pickup Lockers.