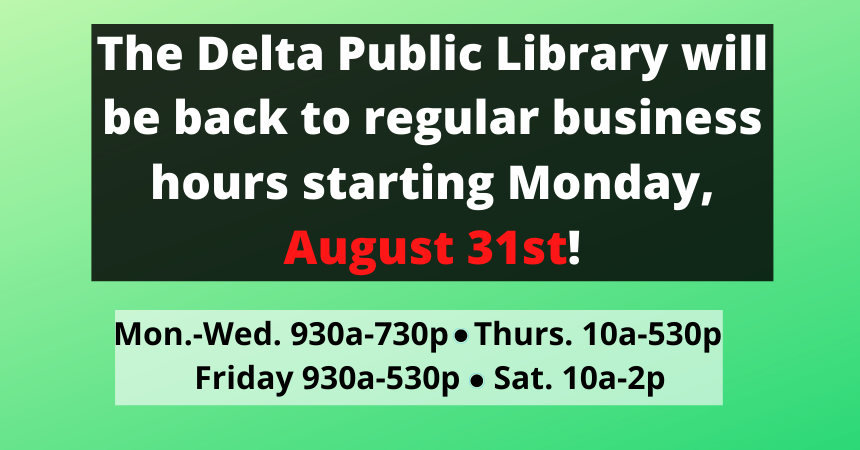 Beginning June 9th, the Delta Public Library building will be open to the public. Curbside Service is available for those patrons that are unable or feel uncomfortable coming inside the building.
August 31st we will resume normal business hours. While there are no specific hours for seniors we recommend the morning hours.
Please note, all items must be returned to our 24/7 dropbox located at the side of the library.
All library programs and meeting room reservations have been cancelled.
We apologize for the inconvenience our closing may cause. Please be safe and remember we are all in this together.
Frequently Asked Questions
What are we doing to help stop the coronavirus?
Staff and patrons are practicing social distancing within the building.
All staff and patrons must wear masks.
We require all return items to be put into the 24/7 dropbox at the side of the building.
We are wiping down materials (DVD cases, discs, book covers, etc.), counters, desk areas, etc. with disinfectant.
Books are in quarantine for five days before they are borrowed by the next patron.
We wear latex gloves to help limit our contact with materials.
How do patrons of the Delta Public Library reserve books?
Patrons of the Delta Public Library can reserve items 24/7 online at www.deltapubliclibrary.org (must have library card number and password), call 419-822-3110 (staff available M-F 9:30a-5:30p; Sat. 10-2), email, or through our Facebook page. Here are instructions on how to reserve items online.
Is the Inter-Library Loan Service available?
Yes. Please be patient as this service is getting back on its feet.
Who may use Curbside Service and how does that work?
Curbside Service is available for those patrons that are unable or feel uncomfortable coming inside the building. Please set up a time to pick up your items at the side entrance next to the dropbox.
What about fines?
Now that the library has been open over a month the library has begun to accrue fines for late items.
Where are all library items returned?
We have a 24/7 drop box available between the bank and library under a blue awning. This includes Hot Spots.
Will the Library's free wifi be available?
The Library's wifi is on 24/7 and extends outside the building. There will be a few computers available inside the building for patron use.
Other Services
Ancestry.com is allowing temporary remote access to their library edition. You will need your library card number.