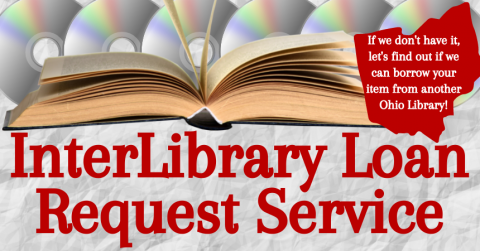 This service allows the Delta Public Library to borrow items from other participating Ohio Libraries to loan out to our patrons. Please note these items will take time to be delivered.
Who is this for?
This service is available to any patron of Delta Public Library in good standing. Typically, patrons use this service when we do not have movies or books they are looking for in our collections. To find out if we have an item you are looking for, check our online catalogue here. If you need to reserve or put an item on hold, you can access instructions here.
How does a patron go about using this service?
We have a form that is filled out to start the service. They are available at the front desk or a patron can call 419-822-3110 and we can fill it out for them.
What information is needed for the InterLibrary Loan Request form?
For our InterLibrary Loan Librarian to do a search for an item the following information is needed (required info is in bold):
A title
For books: an author and a series title, if applicable.
For movies: an actor, and if it is a reboot - the year it was released. This isn't absolutely necessary but it helps make sure the correct item is found.
For Music: the artist or music group
How will a patron know if DPL can get the item?
Once the InterLibrary Loan form is filled out and given to the ILL Librarian, she will search for the item in a website that provides a hub for participating libraries to show what they are willing to loan out to other Ohio libraries. If she finds she can get the item, the patron will get a phone call or text when it comes in. If the item is not available from anywhere for loan, the patron will get a phone call or text to let them know their item is unavailable to ILL.
If you are researching and need academic or genealogy sources, take a look at our resources page for possible alternatives to physical books.
If you are interested in a digitized version of your desired reading materials, try the Ohio Digital Library. Click here to find out more.