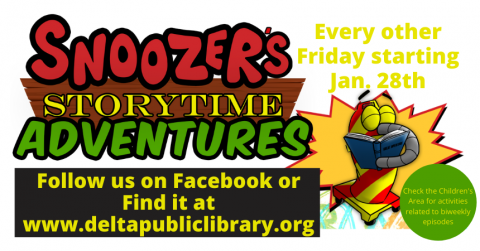 Get the most out Snoozer's Storytime Adventures:
Click "Watch on YouTube" to access full screen mode
Pick up your free copy of the episode craft in the Children's Area or print your own.
Find Snoozer's Selections (books read during the episodes) at the library and check them out.
Read along with Mrs. Hamilton by clicking the link to the reading selection. If you are asked to download an app, you can click no then continue to website, to pass this popup.
January 28th: Favorite Poems for Bedtime
Moon Craft 
February 11th: The Girl and the Cathedral
Flower Craft 
February 25th: Atom
Orange Craft 
March 11th: A Spring's Blessing
Rainbow Craft
March 25th: My Father's Dragon
Dragon Craft and Activity Sheet
April 8th: Joy School - The Rich Boy & Bears Save the Day
Bluebird & Bear Craft, Activity Sheet
April 22nd: ABC Rise up and be
Earth Craft and Activity sheet
May 6th: Dad: The Man, the Myth, the Legend
Star Craft and Activity sheet
May 20: Grit
Spider Craft