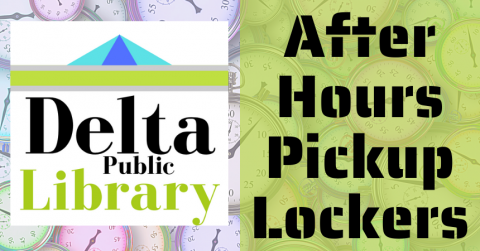 This service is provided for patrons who cannot pick up their reserved (put on hold) library materials until after we are closed or before we are open the next day. It is understood that the patron will pick up their items after we close the same day they set up an after hours pickup locker.
Commonly asked questions:
Where are the lockers?
The lockers are located at the front of the library, opposite the front door.
What do I need to use this service?
You need to be a patron of the The Delta Public Library.
And one of these avenues of communication available:
valid email address
valid phone number to call and leave a message (no text available at this time)
Facebook messenger
How do I use this service?
Reserve or put on hold items that you want to pickup. Click here for instructions on how to reserve library items.
Call us during our regular operating hours to setup the After Hours Locker service.
Or if we call to let you know an item has been put on hold for you, you can setup this service.
We will email/call/message you with the locker and passcode to pickup your materials.
How long will the items stay in the locker?
The items will be checked out to you and put in the locker after we close the SAME DAY it is setup by the patron until just before we open the next day. If items are not picked up, they will be held on the reserve shelf at the front desk for 24 hours then checked-in and put back on the shelf.
Weekend: Lockers setup on Saturdays will keep their items until Monday morning 930a.
What items are part of this service?
Any library items that can be borrowed on your Delta Public Library card.
At-Home COVID-19 tests (these will not be reserved for 24 hours, if not picked up overnight)
What about items I want to return at the same time I have items to pick up at the lockers?
When you pickup reserved items from a locker you can put your returns inside and spin the lock after you put it back on the locker. Or you can take it to our 24/7 drop box at the side of the building under the blue awning. Please note: your items are not considered returned until a staff member has taken them inside and checked them in.